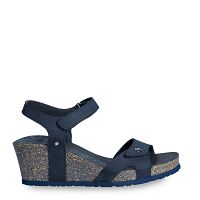 Wedge sandals
Velcro Closure.
WATERPROOF Navy Nobuck Leather.
Leather Lining.
Anatomical insole.
Lightweight, flexible, strong and non-slip EVA rubber sole.
Heel Height: 6 cm.
Made in Spain.
Remove dirt and dust gently using a brush.
If heavily soiled clean the leather surface with a neutral soap dissolved in plenty of water using a hard plastic bristle brush (like the one used for the nails), and rinse thoroughly.
Dry naturally without exposing the shoes to sunlight or extreme heat sources.
Finally, brush the leather in the same direction as the leather falls.